Partnership with a web automation
and data extraction platform.
We made
Strategic partnership
Website
Industry
Information Technology & Services
Technologies
Node.JS, Puppeteer, Cheerio, HTML, CSS, Apify, jQuery, TypeScript
Location
Prague, Czech Republic
Partnership period
January 2021 - Present
Team size
2 Engineers, 1 PM
Executive Summary
We partner with the Apify platform, making it possible to develop, build and run long-term software jobs called actors for web automation tasks. Apify also functions as a marketplace where users can submit their request for a custom web scraping or automation solution. After a request is approved, our team works alongside Apify to get the project delivered by developing and publishing the actor.

Partner Short Description
Prague-based company Apify is one of the worlds most innovative companies in web automation and data extraction. Its a one-stop shop for web scraping, data extraction, and robotic process automation (RPA) projects. Their mission is to enable people to automate tasks on the web so they can spend their time on things that matter. Apify strives to keep the web open as a public good and to leverage the potential of its rich data through their platform.

Objectives
Apifys goal is to build a cloud computing platform where developers can create, share and monetise new cloud services.
This platform should also be easily usable by non-developers, who can either find an existing solution or connect with someone who can build it for them on the marketplace.
Apify aims to allow the model to grow into general software development and create its ecosystem.
We partner with Apify and augment their existing development team to help them create long-running software solutions for web automation tasks.
Why Impressit?
Due to high market demand, the Apify development team is constantly growing and looking for long-term partners that can augment the team quickly and cost-effectively. The Impressit team went through a complicated onboarding process and proved its capabilityto work alongside the Apify team. "We believe that our approach, clean processes, and excellent communication have played a crucial role in Apifys decision-making" - Roman Zomko, CEO at Impressit. "We are very happy to have Impressit as one of the first valued members in our growing network of partners. Thanks to the expertise of both companies, we are able to bring innovative data extraction and web automation solutions to even more companies around the world." - Jan Čurn, CEO at Apify.
Would you like to connect?
Leave us a note and we will contact you within 12 hours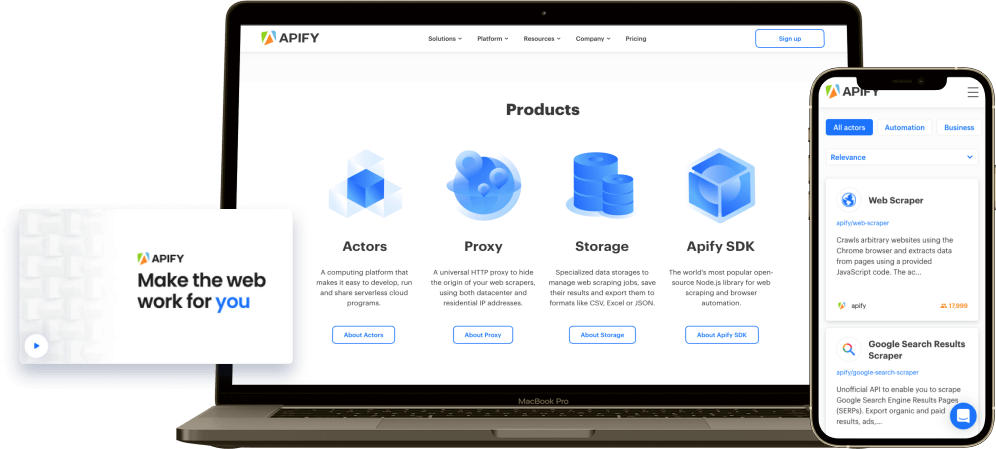 Solution Provided by Impressit
Our partnership started in January 2021, when two Node.js developers joined the Apify development team to work on actor development. A project manager joined them soon after to help set up processes and collect requirements from Apify. At the core of this is creating and fixing actor descriptions, connecting them, and delivering them to the end-user. This process presents many challenges. For example, if we need to build a new actor for a large website, pages like Facebook or Amazon are very secure and have strict rules regarding data extraction. Nevertheless, we manage all of the challenges on our side effectively and work as a single unit that delivers value with every new request. From the very beginning we took on the responsibility of building all the processes from the ground up, and together with the Apify team we have achieved that successfully. The main goal for Impressit now is to become an independent partner who can take responsibility for the entire process of actor development including collecting clients requirements, negotiating with them, and providing ongoing maintenance and support.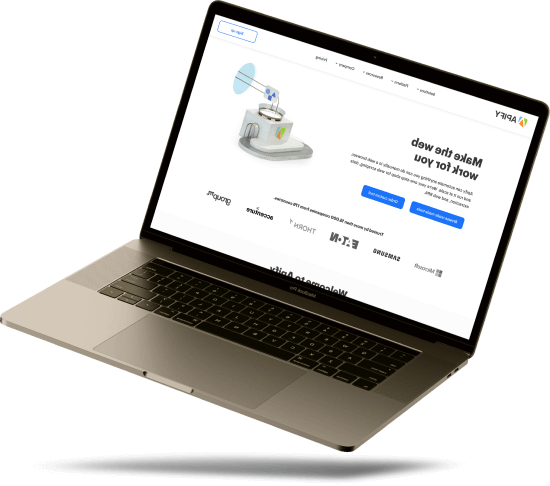 Value delivered
The Impressit team, along with Apify, builds serverless cloud programs on the Apify platform. These programs can perform arbitrary computing jobs such as sending an email or crawling a website with millions of pages, and can easily be integrated with other apps. We constantly take part in decision-making, set up processes, and help to improve Apifys platform and products. In addition, we have enabled Apify to scale their development team quickly and cost-effectively to deliver new actors for the market. Each newly published actor increases Apifys surface area for search engines and helps bring more users to the platform.
We also successfully reduced the onboarding time for new engineers and operational costs. The Impressit team has delivered all required results for Apify. We look forward to an ongoing partnership and are excited about new data extraction projects. Each project is unique, full of challenges and always enjoyable.